About Us
We at
S A Handicrafts
let you explore a world of stunning and unique handicrafts, lovingly crafted by expert Indian artisans. We believe skilled craftsmen of India need proper employment opportunities and resources to display their matchless talent, and this is what we do at our company. We harness on their caliber & creativity, presenting different types of
Decorative Lamp, Antique Brass Compass, Maritime Vintage Brass Sundial Compass, Sand Timer, Brass Telescope,
etc., in a plethora of finishes.
Our range crafted with precision and great techniques can be used to accessorize any kind of spaces and also make great gifts. Whatever the occasion, one can present these heartfelt items as tokens of love to near and dear ones. We can get ordered items delivered to each and every corner of India, backed with excellent pricing.
In addition to an awe-inspiring range in many standard sizes, colours and finishes, we are also capable of reproducing any design presented by clients. We can offer such items on demand with a production & delivery speed to match tight deadlines. Because of all these factors, our reputation as a handicraft manufacturer, exporter and supplier has remained strong since we implanted our business in the industry in the year 2018.
Why Choose Us?
Handicrafts from India and the skills of Indian craft makers are considered one of the best in the entire world. We, S A Handicrafts, are the best destination to experience this exclusivity and creativity as we offer a host of handmade products in both contemporary and antique designs. Along with this, other advantages buyers get for choosing us as their go-to handicraft supplier are:
We fashion our range of Decorative Lamp, Maritime Vintage Brass Sundial Compass, Brass Telescope, etc., using original quality and high-grade components.
We have experts who pursue creativity of the highest order and continually hone their skills to enhance the product range we offer.
As we exercise creativity, we never let high standards of quality take a backseat. We tolerate no quality lapse and check products on various stated characteristics.
Our exquisitely crafted items can be bought in bulk too.
Future Plans
Though a young enterprise, we are deemed one of the best in our field. We wish to excel and continue with the hard work until we get acknowledgment as an exceptional manufacturer of handicraft items from global buyers.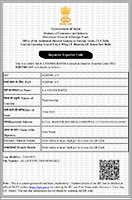 Read More